Cardi B opens up on the claims that she robbed and drugged men
Cardi B opens up on the claims that she robbed and drugged men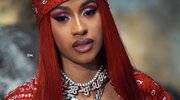 Cardi B has come out to speak about the gist going around that she robbed and drugged men when she was still a stripper.
The Grammy award-winning rapper took to her Instagram page on Tuesday, March 26, 2019, where she shared a posted on her response to the claims that she drugged and robbed men of their belongings years ago.
"I'm a part of a hip-hop culture where you can talk about where you come from, talk about the wrong things you had to do to get where you are, There are rappers that glorify murder violence drugs an robbing. Crimes they feel they had to do to survive. I never glorified the things I brought up in that live I never even put those things in my music because I'm not proud of it and feel a responsibility not to glorify it," she wrote.
Related
artist
At9aija
cardi b
cardib
drugs
hip hop
latest
Music
musician
news
open
rap
talk